From November 18 to 24, the World Antimicrobial Awareness Week takes place. Established by the Quadripartite – the Food and Agriculture Organization of the United Nations (FAO), the United Nations Environment Program (UNEP), the World Health Organization (WHO) and the World Organization for Animal Health (WHOA) – this week aims to increase awareness and understanding of the problem of antimicrobial resistance among One Health stakeholders.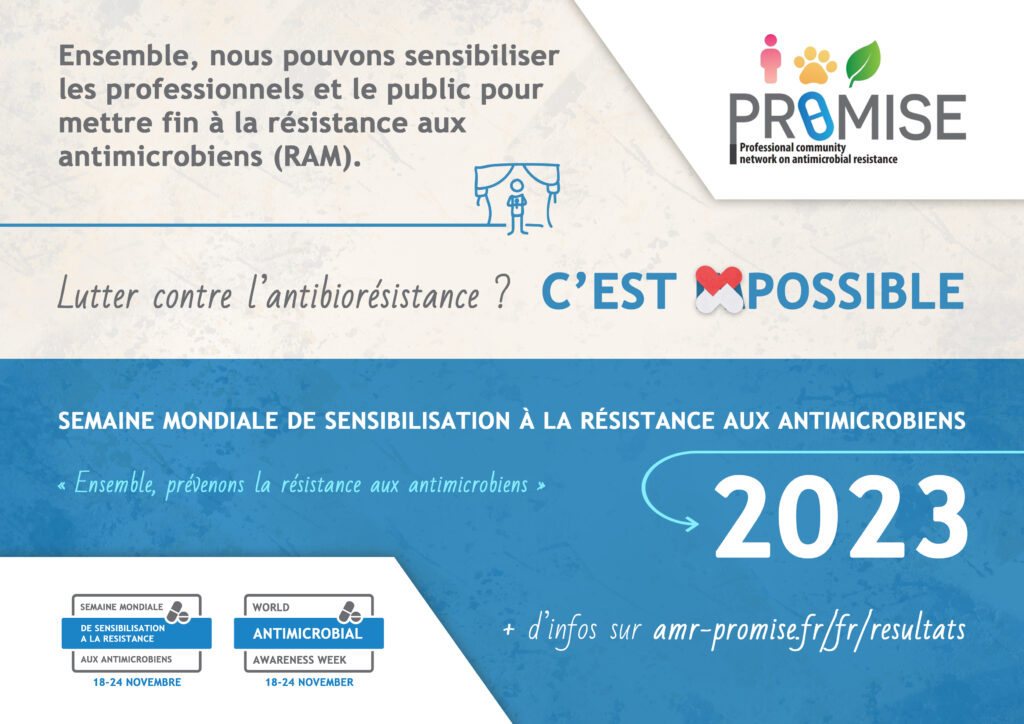 It is in this context that the PROMISE meta-network decided to launch a visual campaign in French on its results (in progress or finalized). "Fight against antibiotic resistance? It's impossible !" is the slogan associated with this campaign, in order to raise awareness among professionals and the public to put an end to antimicrobial resistance. As in 2022, this week has the theme "Preventing antimicrobial resistance together".
This is why PROMISE has put a "Results" page online on its website, with explanations on each of the works carried out within the framework of the meta-network. Each visual corresponds to an action carried out by the members: everyone is free to share them, download them, or even print them for physical display. Do you want to know more about the actions carried out by PROMISE?
The lists of results (in progress or finalized) displayed on the dedicated page [FR]:
Cross-sectoral analysis of the links between resistance and use of antibiotics
Diploma training on antibiotic resistance and the One Health approach
One Health oriented common surveillance data warehouse
Quantifying antibiotic resistance in the environment
"Constantine" study on antibiotic therapy in intensive care
Inter-network clinical research protocol on anti-infectives
Publication of scientific and educational articles
Thematic seminar on the antibiotic therapy of tomorrow
The visuals associated with each result for free download [FR]: